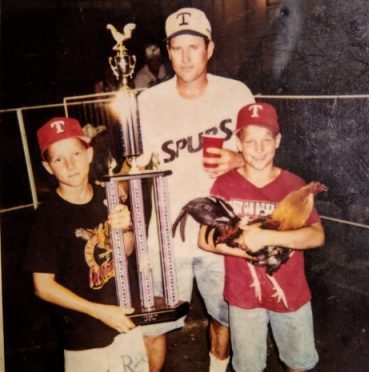 BLOODLINE is a show that explores the history of cockfighting and gamefowl breeding. The pasttime has captivated civilizations across the globe for millenia. Despite this, cockfighting's history is often overlooked, unwritten and at times, censored from the record.
Bloodline explores these stories. Material comes from first-hand accounts as well as primary and secondary historical sources. Episodes are carefully researched to provide an earnest glimpse into the world of cockfighting and the gamefowl community. There's a bibliography of sources consulted.
Bloodline is created by Jesse Sidlauskas. As such, if I got something wrong, please let me know. If you're interested in helping out with the production of the show, or if you have suggestions for episodes or research, reach out. My contact info can be found over here. You may also read information about my privacy policy.
I grew up on a game farm in Texas, raising and fighting roosters with my dad, his dad, my brothers as well as some uncles and cousins, but that doesn't mean this is a podcast only for the gamefowl community. The Intro episode can fill you in on my background with the sport.
Each episode offers the public a glimpse into the world of cockfighting and gamefowl breeding. We'll hear stories from cockers past and present. Our debut episode, for example, features modern-day breeder Thomas Carrano, while episode 5, Kings of the Cockpit, tells the stories of 18th and 19th century cockers like the Earl of Derby, who founded the Derby Black-Breasted Red bloodline.